1Ls argue before Iowa Court of Appeals in C. Edwin Moore Competition
Monday, October 23rd, 2017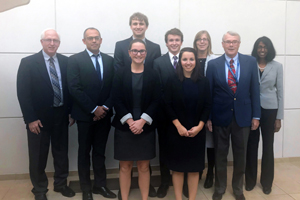 Four Drake Law first-year students argued before the Iowa Court of Appeals during the final round of the C. Edwin Moore Competition on Oct. 4.
Organized by the Drake Moot Court Board, the C. Edwin Moore Competition is a voluntary competition offered to all first-year students during the fall semester. The competition challenges the students' organization and presentation skills in oral advocacy.
The competition began in mid-September with more than 30 1Ls competing in the preliminary rounds, which were judged by local attorneys with experience in appellate advocacy. The students were challenged to argue for both the appellant and the appellee.
The top 12 students were chosen to advance to the semifinals, where they were placed in randomly assigned arguments against one another.
The Drake Moot Court Board selected Chelsey Knapp, Lucas Asbury, Billy Daniels, and Kerrigan Owens as the finalists. During the final round, the students competed before five justices of the Iowa Court of Appeals at the Iowa Judicial Building in Des Moines, Iowa. Assistant Attorney General Louie Sloven, LW'15, wrote the final problem, which involved juror unanimity in reaching a felony murder verdict.
The judges chose Lucas Asbury as the winner of the competition.
"Participating in C. Edwin Moore was an incredible experience and easily the best part of law school so far," Asbury said. "It was also a tremendous honor to be able to present arguments to the Iowa Court of Appeals, and I am incredibly grateful to them for taking the time out of their schedules to hear us."
The participants were provided all of the materials for the problem, including a synopsis of the problem, an outline of the argument for the appellant, and an outline of the argument for the appellee.
As the competition focuses on oral advocacy skills, students were instructed to make arguments within the information provided and avoid any outside research.
"It really helped me as a 1L appreciate how the concepts that we are learning in class can be determinative of the outcome of a case," Asbury said.
In addition to the experience of making arguments before experienced panels, the competition provides an opportunity for students to gauge their interest in oral advocacy.
It is also an excellent source of information for the Moot Court Board and those involved in the selection process for Drake's skills teams, which are gearing up for their regional competitions this fall.
Learn more about the C. Edwin Moore Competition.
---
For more news, visit the Drake Law News Archive.