Drake Law School announces 2022 Faculty Award winners
Tuesday, May 24th, 2022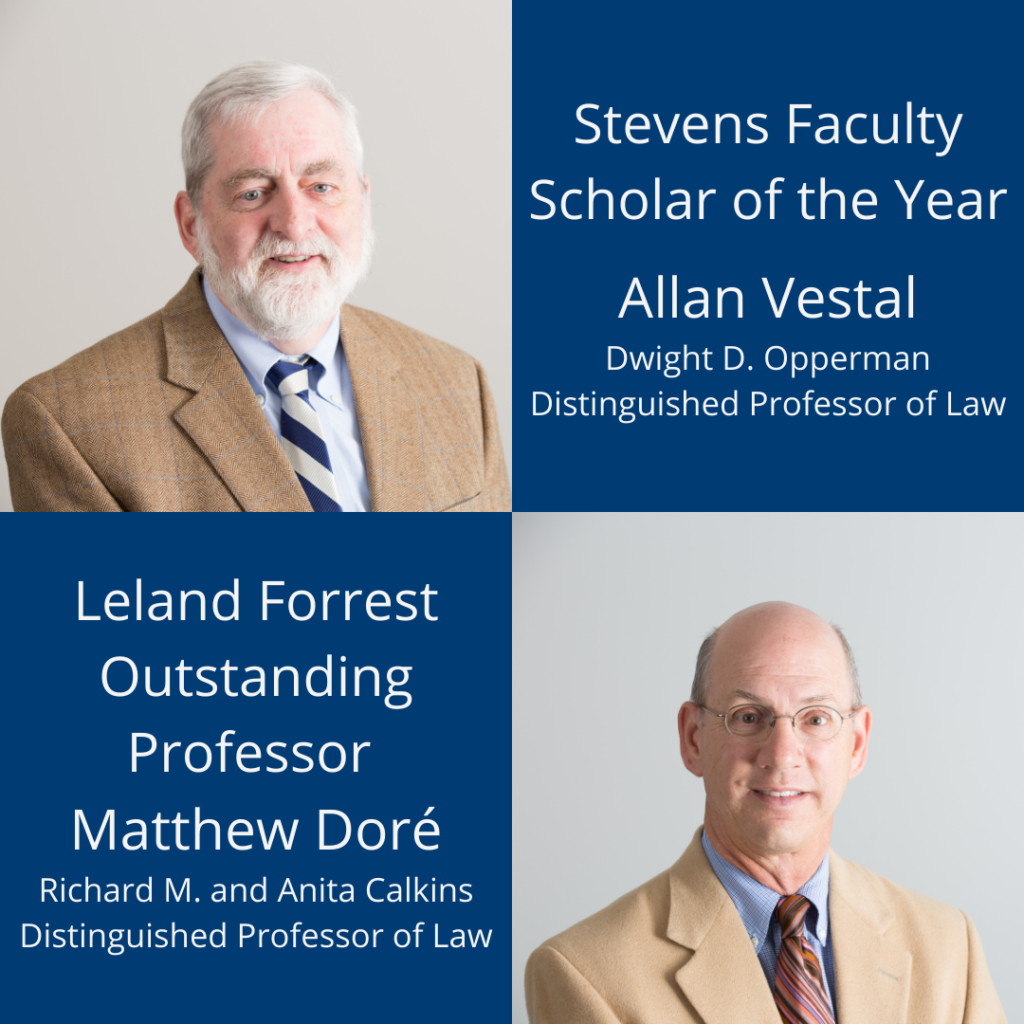 Drake Law School recognized two outstanding faculty members for their contributions to the Law School's teaching, scholarship, and research during the 2021-2022 academic year.
Allan Vestal, Dwight D. Opperman Distinguished Professor of Law, was recognized as the 2022 Stevens Faculty Scholar of the Year. The Stevens Faculty Scholar of the Year award honors the faculty member who made the most significant contribution to academic scholarship during the previous year. Professor Vestal published seven articles in the last three years on topics ranging from religious freedom to legal history. In addition, he completed an innovative new course book for Contract Drafting that promises to see wide adoption nationwide.
Matt Doré, Richard M. and Anita Calkins Distinguished Professor of Law, received the Student Bar Association's (SBA) Leland Forrest Outstanding Professor Award. The Outstanding Professor award recognizes a faculty member for their contributions to the quality of legal education both in and out of the classroom. The recipient is chosen by vote of the third-year students and will lead the class in the graduation procession in May. Students selected Professor Doré for his extensive knowledge, passion for the subject matter, and willingness to go above and beyond to serve students and the Drake Law community. He has served on many crucial faculty committees including the promotion and tenure, and admission committees. He has coached Drake's Client Counseling Team for 30 years, advancing to the national finals several times. "But most importantly," noted Riley Noble, 2021-2022 SBA president, "Professor Doré is always there for his students. He is careful to make sure they are supported and that they always have the resources they need to succeed."
Award winners were announced during the Drake Law Supreme Court Celebration in April. For a list of previous faculty award winners and this year's Supreme Court Celebration student award winners, visit the Supreme Court Celebration website.