Drake SJMC hosting short-form video workshop Jan. 18
Wednesday, January 11th, 2023
Last semester, local creator Brad Podray visited a Drake University class and created a TikTok that got more than 5 million views. And now he's going to teach you how to do the same thing.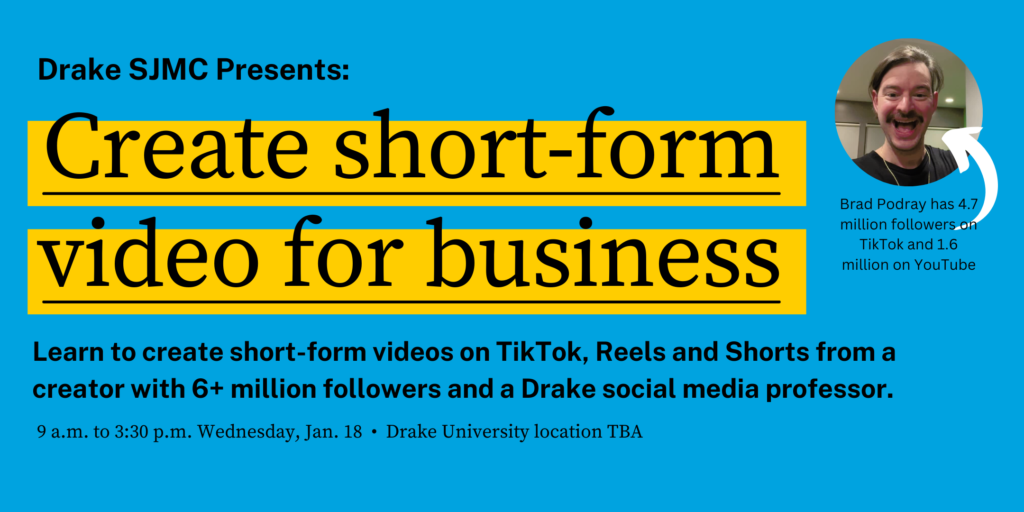 Professor Chris Snider and Podray are teaming up to teach a hands-on short-form video workshop at Drake University on Jan. 18. Podray has more than 6 million followers on TikTok and YouTube. Snider has been teaching social media strategy at Drake for more than a decade.
If you or your business want to take short-form video content more seriously in 2023, this is the perfect workshop for you. You'll learn how to make content that gets seen and gets results on TikTok, Reels and YouTube Shorts. We will create content together during the workshop and you'll leave with the confidence to create viral content on these networks.
See more details and sign up here.
If you miss the early bird price, use the code SJMC to get the same price.