SJMC Monday Memo – March 20, 2023
Monday, March 20th, 2023
Awards, Awards, and More Awards:
Congrats to Colson Thayer who scored second place in the Best News/Editorial Original Feature Story category of the Midwest Free Community Papers Awards for his Cityview piece "The Return of Record Shops." You can check out the story here.
Congratulations to Miles Fritz and Abby Schindel for their production "Type A." Miles and Abby were named 2023 nominees for Outstanding Achievement in the Fiction category of the National Academy of Television Arts & Sciences Upper Midwest Foundation Student Production Awards.
Congratulations to Aaron Khan-Gumm, McCade Gowdy, Dylan Deangelo, and Abby King for "Real Life Advocacy" which was named a 2023 nominee for Outstanding Achievement in the Public Service Announcement category of the National Academy of Television Arts & Sciences Upper Midwest Foundation Student Production Awards.
Sign up for SJMC Refresh May 10
Tickets are now available for our May 10 SJMC Refresh event.
Join Drake School of Journalism and Mass Communication professors for a day of refreshing your skills, seeing what is new on and around campus, and networking with SJMC alumni and friends.
This event is open to the public (no need to be a Drake University grad).
March Madness
Congratulations to Drake's men's and women's basketball teams for qualifying for the NCAA tournament. Drake basketball players DJ Wilkins, Roman Penn, and Grace Berg are all in the SJMC's Master of Arts in Communication program.
Dr. Kelly Bruhn, Professor and Associate Dean, attended the Chicago alumni-hosted watch party last Friday.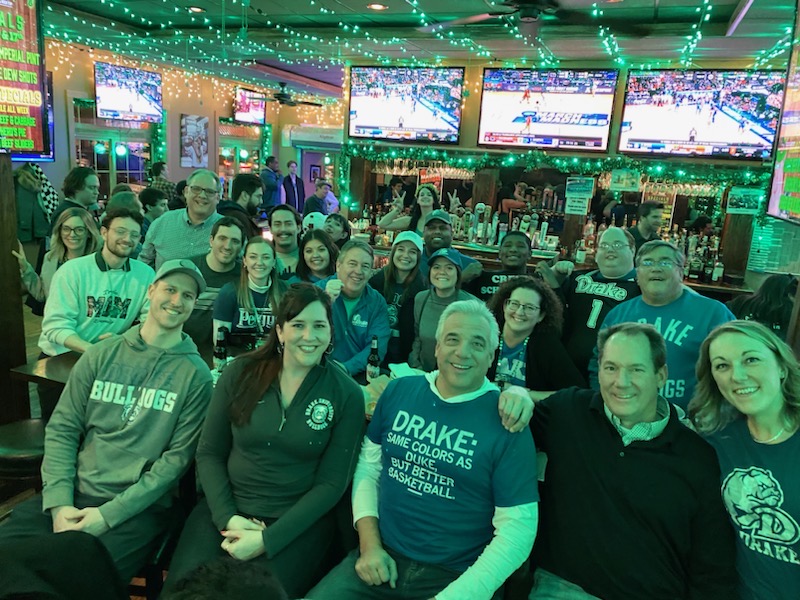 Drake Student Survey (DSS)
Recently, you received an invitation to participate in this year's Drake Student Survey (DSS). The email would have come from President Martin and Provost Mattison on March 7.
This is your opportunity to let us know what matters to you. Your feedback on your experiences at Drake will be used not only to benefit all students of Drake, but of the SJMC. The results of the DSS have been the impetus to improvements in the Drake experience – from improving academic advising to providing more opportunities for students to study abroad, participate in community engagement, and attend more diversity and inclusion events.
Use your voice to help shape Drake for future students. It should take fewer than 20 minutes to complete and upon completion you will be entered in a drawing for one of the available $50 gift cards to the Drake Bookstore.
If you have any questions, please contact Kevin Saunders – kevin.saunders@drake.edu
RTDNA Scholarships available
Scholarships are open to college students pursuing careers in radio, television, or digital journalism. Click here to learn more about eligibility.
Application deadline: March 31. Apply here.
Peter Otto, audio innovator, to present on March 22 at 7 p.m.
Peter Otto will speak Wednesday, March 22, at 7:00 p.m. in Sussman Theater, as part of a series of events that the SJMC is hosting to explore human inspiration and innovation, the roots of creativity in an age of artificial intelligence. Otto,who studied music at Drake, is a retired USC San Diego professor who ran an arts and technology incubator. He created the audio startup Dysonics, which was recently purchased by Google. He has expertise in auditory imaging, audio design, acoustics, and immersive media technology.
The final speaker in the series will be Teja Bell, a guitarist, New Age musician, and Zen master. Bell graduated from North High, attended Drake, and teaches meditation for mental and physical health. He will be on campus Wednesday, April 12, with a public event at 7:00 p.m. in the Cowles Library Reading Room sponsored by the Drake School of Journalism and Mass Communication, the Slay Fund for Social Justice, and The Comparison Project.
Mark your calendar: Bucksbaum Lecture to feature legendary Washington Post investigative reporter Bob Woodward
Former investigative reporter for The Washington Post Bob Woodward will deliver the Martin Bucksbaum Distinguished Lecture at 7 p.m. on April 4 at the Knapp Center.
Faculty Spotlight: Lee Jolliffe
Professor Lee Jolliffe has been named Vice President of the Society of Nineteenth-Century Historians and will serve on the Board of Directors of this nonprofit group. The Society represents the evolution of a long-held Symposium on the 19th Century Press, the Civil War, and Free Expression.
Prof. Jolliffe's research appears in several books that have arisen from the Symposium, including Adventure Journalists in the Gilded Age: From the Arctic to the Orient (McFarland, July 2021), which she co-wrote and co-edited with Katrina Quinn and Mary Cronin. Adventure Journalists won the 2022 Browne Award for Best Edited Collection in American Culture.
Her chapters on "A Press Ablaze: Violent Suppression of Abolitionist Speech, Press, Petition, and Assembly" and "Freedom of Expression for Women: The Fight for Suffrage and Personal Liberty" (the latter co-authored with Sandra Davidson and Paulette Kilmer) were published in An Indispensable Liberty: The Fight for Free Speech in Nineteenth-Century America, edited by Mary M. Cronin, and her article on "'BLACK FIENDS' AND 'ATROCIOUS MURDERS': Redefining 'Sensationalism'" appears in The Press in the Gilded Age, edited by David Sachsman. Dr. Jolliffe also guest-edited an issue of Journalism History with articles from a Symposium panel she created.
Have a news item for the Memo?
The SJMC Monday Memo (and other days of the week as needed) is a newsletter to keep members of the wider SJMC community updated on School news, achievements, events and opportunities. If you have an item for the Memo, please send it to SJMC webmaster and multimedia professor Chris Snider (christopher.snider@drake.edu). SJMC alums and other professionals can also subscribe to the Monday Memo via email here: http://eepurl.com/bPNbxn