SJMC Monday Memo – May 15, 2023
Monday, May 15th, 2023
Congratulations 2023 graduates!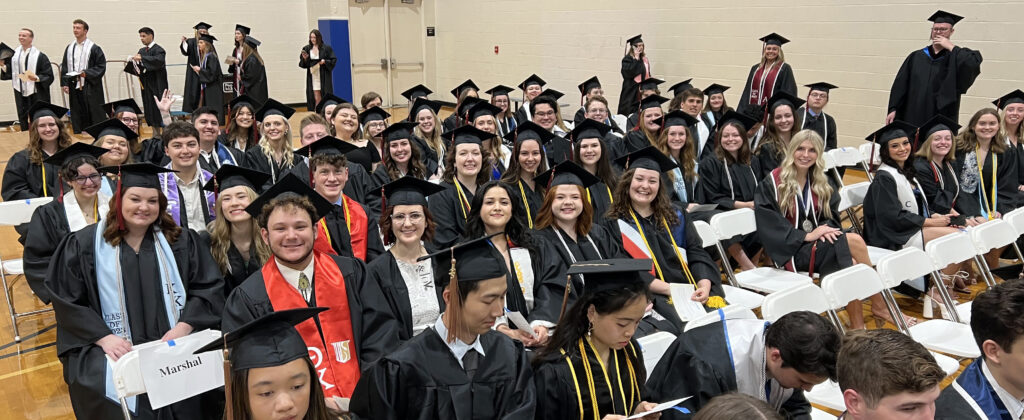 Professor Jeff Inman Named 2023 Mentor of the Year
Jeff Inman, professor of Magazine and Brand Media, won the prestigious Madelyn M. Levitt Mentor of the Year Award. The award "recognizes the Drake University faculty or staff member who best demonstrates excellence in advising, an outstanding commitment to student success, and integrity in personal relationships." Only two faculty members are recognized at graduation – the Mentor of the Year and the Teacher of the Year (won by English Professor Beth Younger this year). Congratulations, Inman!
SJMC office summer hours
The SJMC offices are card-access only during summer break. If you need access to the offices or the computer lab, contact Dean Catherine Staub or one of your professors.
Artificial Intelligence workshop June 1
Join us for this one-day workshop on Artificial Intelligence at Drake University on June 1. Attendees will learn about current generative AI tools and gain ideas of how those tools can be used in their professional lives. We'll also discuss how they should not be used, terms of service and ethical issues related to AI tools.
You'll be testing out tools such as Chat GPT, Google Bard, Midjourney, DALL-E 2 and more during the day. So bring your laptop to get hands-on with these tools. We'll end they day by creating a plan for how you can use more artificial intelligence tools as a part of your daily life.
This workshop will be led by the director of Drake University's Artificial Intelligence major, Chris Porter, and digital media professor Chris Snider.
Congratulations AMA winners
We had many SJMC alums bring home honors in last week's AMA Iowa NOVA Awards, including Marketing Executive of the Year Scott Gojkovich.