SJMC Monday Memo – Aug. 28, 2023
Monday, August 28th, 2023
Welcome back students!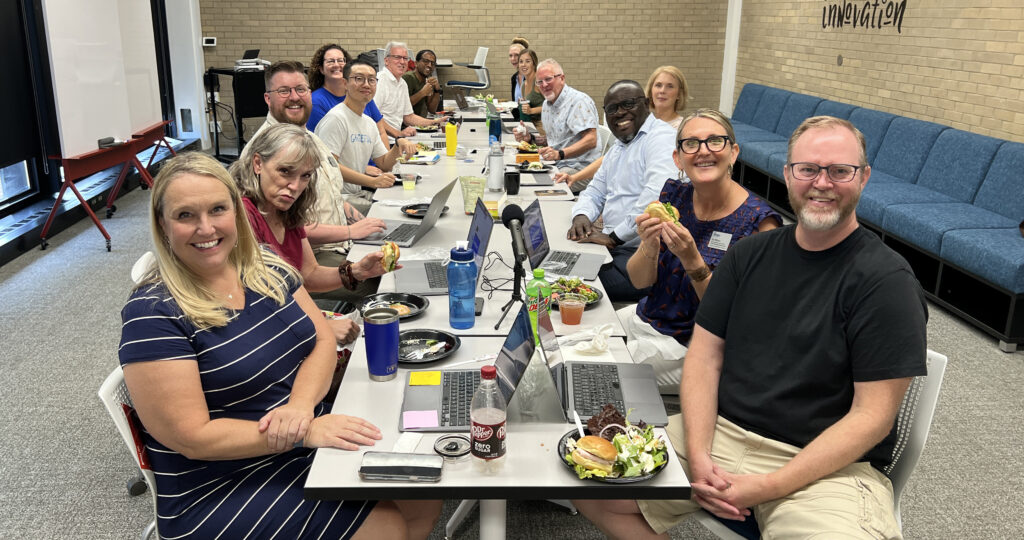 The Drake University SJMC faculty and staff are excited to get the school year started.
Share Your Support for Dean Staub's Family
SJMC Dean Catherine Staub's husband has been diagnosed with Stage 4 melanoma. She is taking a leave of absence to support him during his treatments. Associate Dean Kelly Bruhn will serve as Interim Dean, so reach out to Dr. Bruhn with any questions. Please share your well-wishes for Dean Staub and her family by signing a card outside MER 118 before September 1.
New faces in the SJMC
Assistant Professor Mu He will instruct public relations courses. He earned his doctoral degree from the University of Miami. He has taught various subjects ranging from fundamental statistics and research methods to PR strategy and sports communication.
Kate Busch is the SJMC's new administrative assistant. Kate grew up in Dubuque and graduated from Iowa State University with a B.S. in Psychology before attending the University of Wisconsin-Platteville for her M.Ed. Counseling Psychology.
SJMC Dean's Ice Cream Social is Sept. 6
Join us for the annual SJMC Dean's Ice Cream Social on Wednesday, September 6, from Noon to 1 p.m. in the back breezeway of Meredith Hall (just outside MER 106).
Activities Fair is August 31st
When: 4pm – 6pm Aug. 31
Where: Upper Olmsted Center
The Activities Fair is an opportunity for students to jump start their involvement on campus! Stop by the fair to browse and learn more about 150+ student organizations. No need to register, just show up!
Every Drake University student media organization will be represented. You can check out Drake Broadcasting System, Drake Mag, Drake Political Review, DUiN, Periphery and the Times-Delphic.
Student awards
The College Media Association named Drake Mag as a Pinnacle finalist for Feature Magazine of the Year for schools with enrollment between 2,999 and 9,999 students. It's the first time since 2018 that Drake Mag has been named a Pinnacle finalist. Drake Political Review was named a finalist in that category for the last two years. Individual Pinnacle Awards finalists will be announced on Aug. 30, with Pacemaker finalists to be announced in September.
Recent grad McCade Gowdy won the Best Reporting category of the Association for the Education of Journalism and Mass Communication Magazine Contest for his piece "The Ant-Suburbia," which details Omaha's attempt to rethink its relationship with cars. Senior Nate Eisenmann received third-place in the Best News Story category in the Associated College Press's Spring 2023 Clips & Clicks contest for his spring Drake Mag story "The State of Hate." And junior Lincoln Roch received a third-place award for his Drake Mag story "When the Cameras Leave." You can check out the full summer issue of Drake Mag here, or, of course, pick up hard copies around campus.
Did you have a summer internship?
Students, if you had a summer internship, please contact Timm Pilcher, our career services person, to record your experience through a short survey. You can also talk with him at that time to see if you can obtain Drake credit for the experience!
Join SJMC groups for internships and networking
Don't forget to check out our SJMC-specific Facebook pages! Yes, we know, it's an old-person thang, but it's also where a LOT of our alumni post jobs and internships, so … be sure to join the Drake SJMC Group and Drake SJMC Careers and Internship Group for those cool leads.
Join Drake Mag
Drake Mag is looking for writers, photographers, designers, models, and multimedia content creators for the school year. Students interested are encouraged to fill out the interest form and stop by Drake Mag's table at the Fall Activities Fair on Aug. 31 from 4-6 p.m. in Olmsted.
Drake Mag is also hiring two first-year students for assistant editor and design apprentice positions. Applications for first-years are due on Sept. 3 by 5 p.m. Contact Editor-in-Chief Nate Eisenmann nate.eisenmann@drake.edu with any questions. Follow @DrakeMagazine on Instagram to stay updated.
Generative AI newsletter
SJMC associate professor Chris Snider is teaming up with head of Drake's AI department Chris Porter on a new weekly Generative AI newsletter. Sign up for the latest news and tips on how you can use generative AI. The first issue comes out Tuesday and includes info on a free alternative to DALL-E and Midjourney as well as tips for writing better prompts.
Snider also writes a weekly newsletter on what's new in social media.