SJMC Monday Memo – Sept. 11, 2023
Monday, September 11th, 2023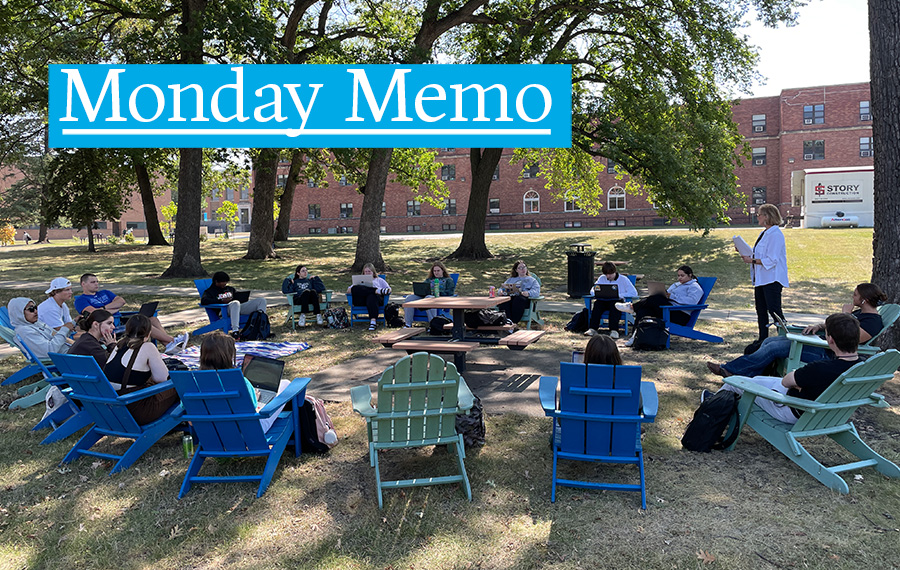 SJMC senior honored
SJMC senior Lizzie Murphy was named runner-up for the John D. Graham Scholarship presented by PRSSA National. She will be accepting the recognition at the ICON Conference in Nashville, Tenn., over fall break. This is the first time since 2016 that a Drake student has been recognized by the scholarship program.
Student awards
It's been another good week for Drake SJMC and student media. A plethora of Drake Mag, Urban Plains, Drake Political Review, and Times-Delphic work were named Pinnacle finalists. Here's the Rundown:
1. Best Arts and Entertainment Story: "Radio Resonates," by recent MMJ grad CJ Younger, Urban Plains.
2. Best Enterprise Coverage of Diversity: "The Last Gay Bar in Lincoln," by recent MBM grad Sydney Hamilton, Urban Plains.
3. Best Feature Story as well as Best Sports Feature Story: "For the Dogs," also by CJ Younger, Urban Plains.
4. Best Feature Story: "The Importance of Drake's Wrongful Convictions Clinic," by MMJ senior Lia Reichmann, Times-Delphic.
5. Best General News Story: "Dirty Dodge Gets a Facelift," by MMJ grad Grace Altenhofen, Urban Plains.
6. Best Editorial Illustration as well as Best Magazine News Page/Spread: "The State of Hate," by GD major and Mags minor Princess Hart, Drake Mag.
7. Best Editorial Illustration: "A Perspective on the Proposed Carbon Pipeline," again by Princess Hart, this time for Drake Political Review.
8. Best Magazine Contents Page: MBM grad Annie Peterson for Drake Mag.
9. Best Magazine Entertainment Page/Spread: "Art for All," Patrick Lucas, Drake Mag.
10. Best Magazine Feature Page/Spread: "Falling for Figs," Annie Peterson, Drake Mag.
That's 12 finalist nominations for 10 different pieces of work this week, on top of last week's Best Portrait nom for Paige Minor and Drake Mag's Best Feature Magazine nomination. Not bad at all.
SJMC Refresh event Sept. 29
Are you a communications or business professional looking to keep up-to-date with the latest skills? Join us for this one-day event at Drake University on Sept. 29 designed specifically for professionals just like you.
Drake School of Journalism and Mass Communication professors will be presenting classes on topics ranging from hands-on content creation to corporate strategy.
You'll also get a first look at the newly re-opened Meredith Hall. Sign up here.
Generative AI workshop Oct. 17
Join us for this one-day workshop on Generative Artificial Intelligence at Drake University. Attendees will learn about current generative AI tools and gain ideas of how those tools can be used in their professional lives. We'll also discuss how they should not be used, terms of service and ethical issues related to AI tools.
This workshop will be led by the director of Drake University's Artificial Intelligence major, Chris Porter, and digital media professor Chris Snider. Sign up here.