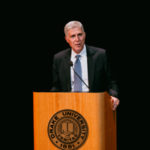 August 17, 2018
Neil M. Gorsuch, Associate Justice of the U.S. Supreme Court, gave a special lecture to approximately 350 Drake Law students, faculty, and staff on Aug. 16.
August 1, 2018
Drake University is planning a celebration Sept. 25-28 in honor of the 150th anniversary of the Iowa Supreme Court landmark case Clark v. Board of Directors.

July 20, 2018
Drake Law School has established a new Institute for Justice Reform and Innovation. Directed by Judge Mark Bennett, the institute will serve as a center for research and training on implicit bias, sentencing reform, and improving trial procedures.

July 8, 2018
Robert D. Ray, BN'52, LW'54, died on July 8. Governor Ray proudly served as Iowa's 38th governor and, later in his career, as the 11th president of Drake University, from April 1998 to May 1999.

July 5, 2018
Professor Neil Hamilton, director of the Drake Agricultural Law Center, was honored by the Cuban Agrarian Law Society at the 11th International Congress on Agrarian Law in Havana, Cuba.
June 27, 2018
The Greater Des Moines Public Art Foundation is hosting a ceremony and public lecture to dedicate an art project that honors the legacy of the National Bar Association's founders, including 1922 Drake Law alumnus Charles Preston Howard.

June 13, 2018
Ashle Bray was one of 30 law students nationwide selected as a Student Fellow for the Rural Summer Legal Corp. As part of the program, she will provide legal assistance to low-income, rural Iowans.

May 29, 2018
While Gabe Walsh was in his third year at Drake Law School, he was also gaining real-world legal experience. In fact, he represented a total of 24 clients though the Drake Legal Clinic.

May 23, 2018
Drake Law School placed third in the nationwide ABA Competitions Championship, which awarded team achievements and participation in the ABA Law Student Division's four practical skills competitions.
May 22, 2018
Drake Law School held its Spring 2018 Commencement Ceremony on Saturday, May 19, in the Knapp Center.
---
For more news, visit the Drake Law News Archive.