Danielle Shelton Elected to the Fellows of the American Bar Foundation
Thursday, May 4th, 2023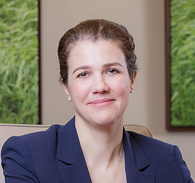 Drake Law School is pleased to announce that Professor Danielle Shelton has been elected a Fellow of the American Bar Foundation (ABF).
The ABF Fellows is a global honorary society that recognizes attorneys, judges, law faculty and legal scholars whose public and private careers have demonstrated outstanding dedication to the highest principles of the legal profession and to the welfare of their communities. ABF Fellows hail from nearly 40 countries and hold a wide variety of influential roles. Membership is limited to just one percent of lawyers licensed to practice in each jurisdiction. Members are nominated by their peers and selected by the ABF Board.
Professor Shelton joined the Drake Law faculty in 2003. She uses her background as a litigator to contribute to Drake's rigorous legal writing program. She is a co-author of Legal Analysis and Writing: An Active-Learning Approach (with Karen Wallace and Melissa Weresh) and presents at various conferences and CLEs. In addition to legal writing, her scholarship interests include legal reform in the rules of civil procedure as well as reform regarding victims' rights.
Shelton has served on several State Commissions, including the Iowa Supreme Court Task Force for Civil Justice Reform, Subcommittee on Specialty Courts and Rules (which established the pilot project for Iowa's Business Specialty Court) as well as the State's Continuing Legal Education Commission (which recently established annual requirements for continuing legal education in diversity as well as attorney wellness.)
She is committed to legal reform in the area of victims' rights. Her recent research has focused on systemic failures in the legal system that impact victims with mental disabilities. Her research and advocacy in this area is funded by the Nellie Ball Research Fund Grant. She recently published in the Dickinson Law Review on ways to increase access and participation of victims with mental disabilities in the legal system. In addition, she helped protect victims' rights throughout Iowa by successfully handling a pro bono matter on behalf of crime victim centers.
Shelton is also committed to diversity, equity, and inclusion issues in the legal academy and legal profession. She chairs Drake Law's Diversity, Equity, and Inclusion Committee, which has sponsored cutting-edge programming for law students and lawyers alike. She created a certificate program at the law school in "Social Justice Lawyering" and has worked on other curricular reform related to DEI.
Other ABF Fellows from Drake Law School include Dean Jerry Anderson, Professor Mark Kende, Professor Robert Rigg, Professor Emeritus David Walker, and Professor Emeritus Russell Lovell II.