Drake Law School Ranks 9th in Best Value Private Law Schools
Tuesday, October 24th, 2023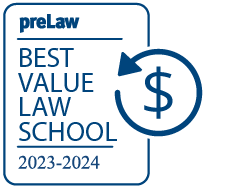 Drake University Law School has been named a Best Value Law School by preLaw Magazine for the 2023-24 academic year.
The Best Value rankings spotlight law schools whose graduates excel on the bar exam and secure employment in the legal field without substantial financial burden. preLaw Magazine assessed all 197 ABA-accredited law schools in the country based on cost and graduate outcomes. This year, Drake Law School is positioned as the 9th Best Value private law school in the nation.
The Best Value rankings heavily weigh two critical indicators of academic achievement and professional preparedness — bar passage rate and graduate employment rate — as well as overall cost. The employment rate for the Drake Law Class of 2022 in JD or JD-preferred positions was 92%. In addition, an impressive 95% of Drake graduates passed the July 2023 Iowa bar exam on their first attempt, a testament to Drake's dedication to equipping its students for immediate practice readiness upon graduation.
Support in the form of scholarships plays a big role in helping students manage expenses. In recent years, Drake Law School has prioritized efforts to help reduce student debt. This year, 85% of all students receive support ranging from partial to full tuition scholarships.
"Strong alumni support and careful stewardship of resources have allowed us to offer very high-quality legal education at a reasonable cost," said Dean Jerry Anderson. "We believe that this top-10 ranking accurately reflects the powerful lifetime earnings benefit of a Drake Law degree."