CPHS Experiential Education Awards Announced at Health Professions Day 
Sunday, March 5th, 2023
During the annual Health Professions Day (formerly Pharmacy and Health Sciences Day), held on February 23, 2023, the College of Pharmacy and Health Sciences presented awards to experiential educators who demonstrate outstanding teaching and mentorship to students at their practice sites. Nominations for the awards are sought from students within the College.
Athletic Training:
Tara Armstrong was named the AT Preceptor of the Year. Armstrong is a certified and licensed athletic trainer for Select Medical and practices in the athletics department at Drake University.
Health Sciences:
Emily Madsen was named the Health Sciences Preceptor of the Year. Madsen is an Assistant Director of Recreation Services – Wellness and Marketing at Drake University.
Occupational Therapy:
Nancy Mack was named the OT Fieldwork Educator of the Year. Mack is a PRN occupational therapist at Odum Health and Wellness.

Katy O'Reilly was named the OT Doctoral Capstone Mentor of the Year. O'Reilly is a Certified Therapeutic Recreation Specialist and Program Manager at Open Doors Organization.
Pharmacy:
Talli Smith was named the Introductory Pharmacy Practice Experience (IPPE) Preceptor of the Year. Smith is a Pharmacist at Broadlawns Medical Center.

Steven Donnelly and Matt Korte were named the Advanced Pharmacy Practice Experiential (APPE) Preceptors of the Year. Donnelly and Korte are pharmacists at Walgreens Specialty Pharmacy.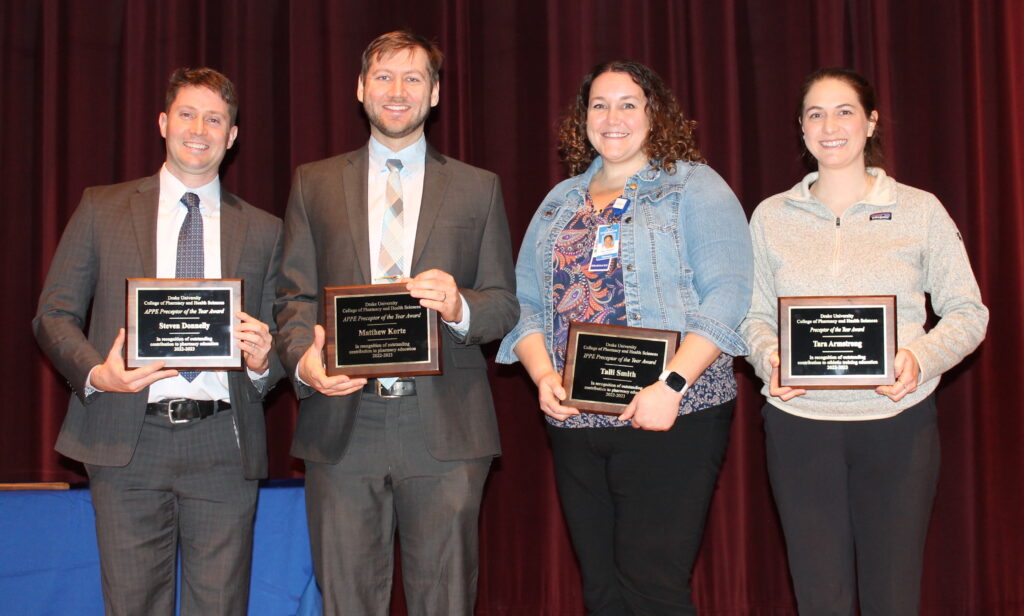 Unable to attend Health Professions Day were Emily Madsen, Nancy Mack, and Katy O'Reilly.