Dean Renae Chesnut: A legacy of innovation and dedication to the College of Pharmacy and Health Sciences
Monday, October 30th, 2023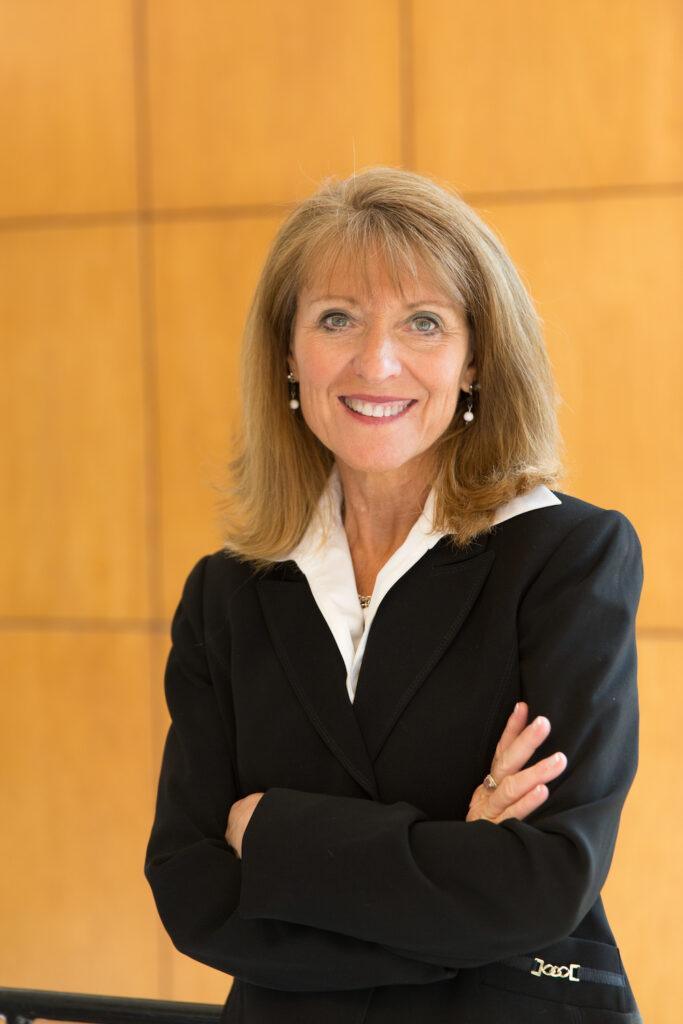 After nearly three decades of unwavering commitment to Drake University's College of Pharmacy and Health Sciences, Dean Renae Chesnut is bidding farewell to the institution she has called home for the better part of her career. Dean Chesnut will step down from her deanship on Jan. 31, 2024, and take an administrative sabbatical from Feb. 1, through her official retirement date of Dec. 31, 2024.
"As Dean Chesnut begins the next chapter of her life, she leaves behind an indelible mark on Drake University's College of Pharmacy and Health Sciences," said Mattison. "She has mentored, guided, and positively impacted thousands of students who have graduated from the College of Pharmacy and Health Sciences under her tenure, many of whom have gone on to become local and national leaders in their fields. Her impact on the pharmacy and health science profession will be felt for generations." 
A legacy of innovation, leadership, and transformative change
Chesnut's story at Drake University is one of dedication and passion. She holds a remarkable four degrees from Drake University, including a Bachelor of Science in pharmacy, a Master of Business Administration, and Specialist and Doctor of Education degrees. From her early days as a pharmacy student to her final tenure as dean, she has been tirelessly committed to advancing the fields of pharmacy and health sciences.  
Chesnut was named dean of the College of Pharmacy and Health Sciences in 2016. Since then, she has led several initiatives, including the establishment of new academic programs: 
Other major accomplishments during her tenure included the creation of several new student scholarships and awards, revenue-generating partnerships, and the development and renovation of various facilities to support the College's expanding programs. Chesnut played a key role in the completion of the Science Connector Building—a state-of-the-art science hub that promotes interdisciplinary teaching, research, and study among Drake's science and healthcare programs. She also led fund-raising efforts and oversight of renovations to create the Occupational Therapy Building, the Porter Clinical Skills Center, the Franson Simulation Lab, and the Interactive Healthcare Center.
Prior to her deanship, Chesnut was a faculty member and the College's associate dean and served as the University's NCAA Faculty Athletics Representative for 16 years. She was instrumental in the establishment of several college initiatives including:
The DELTA Rx Institute with the mission to instill a spirit of change and innovation in the pharmacy profession.
Several new joint degree program opportunities.
The College's nationally recognized Student Leadership Development Series program.
The PharmD program's Diabetes Care Concentration.
Chesnut's work shaping the future of healthcare education is not done
Dean Chesnut's thoughtful approach to expanding the College of Pharmacy and Health Sciences has resulted in stronger, more comprehensive, and high-quality curricula that not only prepares students to excel in their chosen fields but also helps to meet the increasing demand for quality health care professionals.
The Drake Board of Trustees recently approved the pursuit of an Accelerated Bachelor of Science in Nursing (ABSN) program in the College of Pharmacy and Health Sciences. During her sabbatical, Dean Chesnut will lead and support the launch of the new ABSN program. The program will help bridge the gap between healthcare needs and the global shortage of nurses.
Dean Chesnut's journey from an ambitious pharmacy student to a distinguished leader in pharmacy and health science education serves as an inspiration to current students, alumni, and all who have had the privilege of working with her. Chesnut's dedication, vision, and unwavering commitment to excellence will undoubtedly leave an enduring legacy at Drake and the College of Pharmacy and Health Sciences.