Students Honored During Annual Recognition & Pinning Ceremony 
Monday, May 8th, 2023
Drake University College of Pharmacy and Health Sciences (CPHS) held its annual Recognition and Pinning Ceremony on Thursday, May 4, 2023. The Ceremony marks students' transition to final year internships, fieldwork, and rotations for third-year undergraduate health sciences students, first-year master of athletic training students, second-year occupational therapy doctoral students, and third-year doctor of pharmacy students.
To assist students with their transition from their course work to their program's final year of experiential learning, John Rovers, professor of pharmacy practice and health sciences, and John R. Ellis Distinguished Chair of Pharmacy Practice, provided advice on how to be a transformational leader. Dr. Rovers was the recipient of the College's 2023 Morrow Transformational Leadership Award.
Each student named in the ceremony received name badges and pins to wear in their final program experiences. The College's pin is in the shape of a shield with the name of the student's degree program, which serves as a reminder of their program's professional values and competencies. The line with the Drake 'D' in the center circle serves as a reminder that the students are always representatives of the Drake University College of Pharmacy & Health Sciences.
"We recognize the hard work and dedication that students have achieved to reach this point in their academic careers," said Renae Chesnut, dean of the college of pharmacy and health sciences. "This ceremony commemorates the milestone that our students have reached in entering their final year of experiential education."
A recording of the 2023 Pinning and Recognition Ceremony can be viewed here.
During the ceremony, CPHS dean and professor Renae Chesnut announced the recipients of several prestigious awards.
Health Sciences Awards
Kieu Pham a junior health sciences student, was presented with the Outstanding Health Sciences Student Award. Recipients of this award have excelled in their coursework and have been active in University and College professional organizations and activities. Pham has served as president of Pre-Med Club, which consists of students from various majors and across multiple colleges. As president, Pham was responsible for organizing events, networking with both faculty and professionals from outside the university, and advocating for the interests of members to bring them enriching and valuable experiences and resources. As with many student leaders, Pham took on the extra challenge of rejuvenating the club after the toll of the pandemic. For example, for the first time in at least three years, they applied for and successfully obtained one-time funding for a large-scale event as well as annual funding for the following year. Outside of Drake, Pham volunteers as a mentor with Big Brothers Big Sisters, all while maintaining a perfect academic record.
Megan Kearns, a junior health sciences student, received the Health Sciences Student Leadership Award. This award recognizes a health sciences student who has shown leadership in their curricular and co-curricular activities. Kearns serves as a member of the CPHS honor code committee, and a CPHS student ambassador, offering a welcoming and knowledgeable presence for incoming CPHS students and organizing programming for current students, such as a health and wellness week. She also serves as a leader in Phi Delta Epsilon Medical Fraternity, serving as philanthropy chair, Vice President of Finance, and now President. As a member of this organization, she has helped to improve the accessibility and equity of the organization through speakers, skills workshops, philanthropy events, and social programming.
MAT Award
Delaney Taylor, first-year master of athletic training student, won the Athletic Training Emerging Clinician Award. Recipients of this award demonstrate the qualities necessary to thrive in the practice of athletic training. Taylor demonstrates a passion for applying classroom knowledge to practical exams and experiences and possesses the necessary critical thinking and personal skills to be quick on her feet and respond positively to adversity and challenges that commonly occur in the field. In addition, Taylor has strong interpersonal skills that allow her to connect and collaborate with clinicians and patients to provide quality care. Preceptors and faculty have praised Taylor's demonstration of good personal and interprofessional skills and is always respectful and open to those around her.
OTD Awards
Bri Brewster, second-year occupational therapy doctoral student, received the Occupational Therapy Scholastic Achievement Award. Recipients of this award have excelled in their coursework, performing in the top 25% of their class. Brewster was selected because she is always prepared for her classes and excels at making connections across courses. Brewster's academic achievement is also evidenced by her selection as a participant in the 2023 AOTA/AOTF Institute for Future Scientists in Occupational Therapy, a competitive process that matched students with researchers in the field of occupational therapy.
Josie Svoboda, second-year occupational therapy doctoral student, was awarded the Occupational Therapy Leadership and Professional Development Award. Recipients of this award demonstrate drive to advance the profession of occupational therapy through leadership opportunities, publications, or involvement in professional presentations. Svoboda was selected in recognition of her efforts to reorient the focus of DUSOTA and grow the membership. She and her team also worked tirelessly to raise funds to support their attendance and that of their peers at the 2023 AOTA Inspire conference in Kansas City.
PharmD Awards
Isaac Ramos, third-year doctor of pharmacy student, received the Excellence in Public Health Pharmacy Award. This award was established by the United States Public Health Service to recognize student pharmacists who make significant contributions to public health. This year, the United States Public Health Service selected a Drake student pharmacist who has been inspired to engage in public health service in part because of his father's experience as an El Salvadorean war refugee. Ramos has had a record of public health service in pharmacy including coordinating student involvement in meeting the healthcare needs of underserved populations in the Des Moines community, leading two teams of students to develop materials to support individuals with epilepsy negatively impacted in the Ukraine conflict, and conducting research on the connection between structural conflict and negative non-communicable disease outcomes.
Jana Kay Lacanlale, third-year doctor of pharmacy student, was recognized as the recipient of the Lon N. Larson Engaged Practitioner Award. Established through memorials made in Larson's honor, the annual Larson award is presented to the student that most demonstrates the values and actions for which Dr. Larson, previous faculty member, was best known including high ethical standards, reflective practice, innovation, and community service.
Lacanlale has been very active within several professional organizations. Within these organizations, she has an impressive record of leadership service, including serving as President of the CPHS Ambassadors, President of the Drake Chapter of the Phi Lambda Sigma Pharmacy Leadership Society, a delegate to this year's Student Governance Association, and serving in multiple officer positions in the Beta Chi Chapter of the Kappa Psi Pharmaceutical Fraternity. Lacanlale has also completed and presented multiple research projects in areas such as antipsychotic usage, diabetes management, and access to language services. In addition, she has a sustained record of volunteer service, including administering over 1000 COVID-19 immunizations.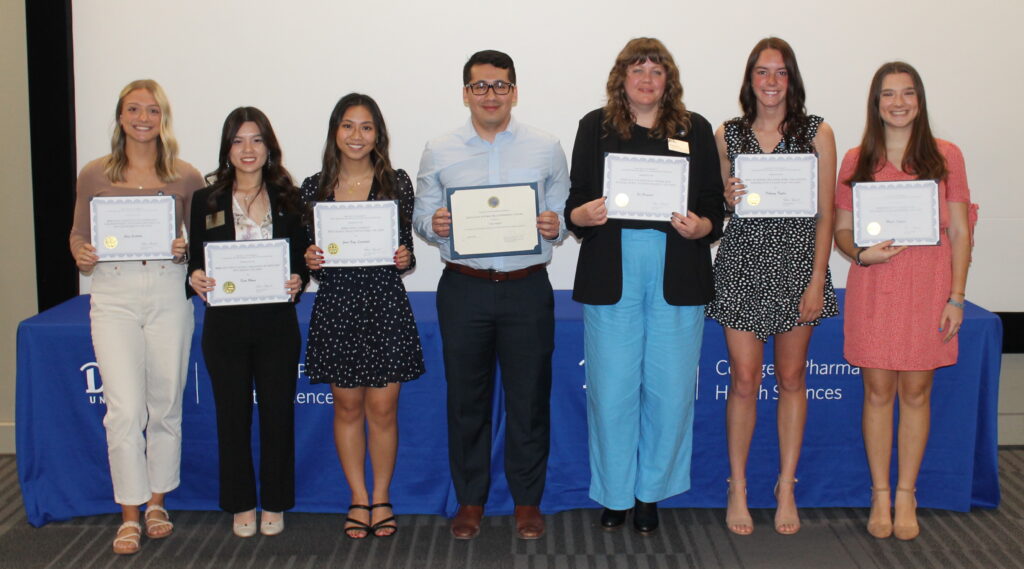 Students who received pins and were named during the ceremony included the following:
Health Sciences Students: Hamdi Abdullahi, Victoria Alfano, Matthew Clegg, Ahsja Cooper-Reid, Ali Deeqa, Mystique Baccam, Maegen Bagg, Katherin Bruening, Julia Chrysler, Lynnsey Kickson, Lillian Duffield, Samatha Fisher, Stephanie Flores-Romero, Elle Forsmark, Emma Garfoot, Teagan Gourley, Drake Gray, Caleb Griffith, Samantha Mattsey, Molly Koekstra, Austin Jentz, Calea Jones, Megan Kearns, Haylee Lehman, Addalyn Lightner, Ashlynn Lizer, Joseph McCargar, Riley Milroy, Brandon Monroe, Andie Morrissey, Antonio Pajic, Kieu Pham, Alayna Schlipman, Elle Schroeder, Laura Schultz, Lena Swabb, Mathew Winters, Sofia Zelinski
Master of Athletic Training Students: Christina Jackson, Tessa Laska, Taylor Oberpriller, Jamira Robinson, Sonja Squiers, Delaney Taylor, Sara Wilson, Ethan Zager
Occupational Therapy Doctoral Students: Megan Beaulieu, Sheena Benson, Karena Bjerke, Savannah Boyle, Kaci Bradish, Brianna Brewster, Sadie Burke, Luis Carbajal, Tayny Carroll, Deni Cokovic, Hannah Conlin, Nicole Crandall, Jessica Curry, Miranda Fickbohm, Callison Fini, Olivia Freehill, Ashley French, Megan Frommelt, Jenna Gregoire, Kate Greiner, Chandler Hohbach, Sarah Julstein, Mara Jauron, Zayla Jyawook, Natalia Kirby, Annelise Klenk, Emerson Knapp, Kaitlyn Lenhart, Laiken McAleer, Haily McClanahan, Taylor McEachran, Marisa Milavetz, Kaitlyn Munsterman, Sarah Nguyen, Makayla Partain, Lauryn Pritchard, Hannah Promes, Sara Purscell, Sydney Rants, Thomas Schnabel, Samantha Sharp, Leah Spears, Alyssa Stratton, Jocelyn Svoboda, Megan Taylor, Morgan Tegtmeier, Sarah Voss, Allison Winker
Doctor of Pharmacy Students: Anna Amos, Olena Andrushko, Taylor Baker, Samantha Barnes, Sarah Bayne, Jacob Bennett, Nirjan Bhattarai, Sydney Blackmer, Jordan Bloodgood, Peyton Braun, Irish Browning, Marcus Burrow, Elise Carter, Ryan Christensen, Annika Cook, Alexis Dauner, Hunter Daws, Mitchell DeKeyrel, Shannon Dicken, Zoe Dittmar, Brooke Doohen, Callie Doohen, Alexis Dutton, Lyndy Elvebak, Tiffany Evans, Esmeralda Flores, Gustavo Flores, Kelsie Fogo, Kate Gallinero, Daniel Garcia, Emma Garcia, Emelia Germer, Kristen Giles, Ali Goldensoph, Dillon Graf, Kira Grefsheim, Rebecca Grenz, Collin Havel, Sarah Hennessey, Emma Hepworth, Hailey Hovland, Yusuf Ibrahim, Danielle Jenison, Samantha Kelley, Christopher Khuu, Jonathan Klauke, Caitlin Kramer, Jana Kay Lacanlale, Anders Landis, Sabrina Larbi, Ashley Lawler, Maddie Lee, Lindsay Lewis, Brayden Malone, Erin Maxwell, McKenna McCreedy, James Nichols, Eian O'Brien, Kayla Olstinske, Lucas Philip, Natalie Polich, Courtney Polka, Isaac Ramos, Marianna Rieser, Abigail Riewer, Jessica Roberts, Lindsey Rowatt, Danielle Simon, Thomas Smith, Taylor Sorrells, Ashley Szull, Taylor Ann, Meghan Thimmesch, Reed Timmer, Braden Weiser, Peyton Wood, Caesar Yeaman